Activities
We recognize the importance of play in children's lives—as a source of learning and enjoyment—and their natural talent for it. We want children to have fun, to express themselves, to communicate, to imagine—in short, to enjoy the wonders of childhood. This is how they will grow, develop and reach their full potential.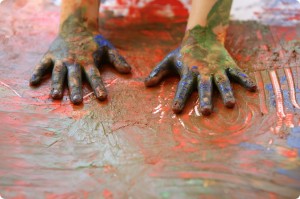 In line with our pedagogical vision, we offer children from 2 months to 12 years a wealth of opportunities to take part in age-appropriate activities that support their emotional, cognitive, physical, creative and social development. Our early childhood and out-of-school programs are tailored to fit the needs, interests and skills of individuals while nurturing their ability to relate to others and function optimally within a group.
The activities our nannies and other qualified staff organize or facilitate on a daily basis are too varied to mention. The Reggio Emilia childhood development philosophy highlights the importance of letting the child take the initiative towards discovery in a safe, supportive and stimulating environment. We believe strongly in that. At the same time, our childcare professionals often set up learning moments—maybe teaching pre-schoolers to add or subtract using apples and potatoes or telling a story that triggers their curiosity and fantasy.
In addition to feeding children's natural curiosity and exploration in 'everyday' ways, we organize many special activities focused on the development of physical, creative, expressive and cognitive skills. These include gym, dance and drama as well as homework help.