Nutrition
We all know how important it is for children to eat well and establish healthy eating patterns early in life. But cooking up a wholesome dinner at the end of a long working day will not be every parent's idea of fun. Then it's reassuring to know that your child has eaten a tasty and nutritious warm lunch and/or dinner at Oya's Childcare. Oya's unique service package also includes the option to pick up a freshly cooked evening meal for yourself when you collect your child.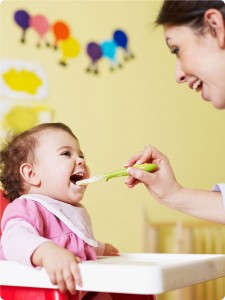 As you'd expect, Oya's approach to your child's nutrition is based on best practices and the highest quality standards. Our meals are prepared using fresh, natural ingredients—lots of fruit, vegetables and grains, along with appropriate servings of fish, lean meat and (reduced fat) dairy products. We follow the recommendations of the Voedingscentrum (Dutch dietary advice center) for a balanced and varied diet, age-related portion sizes and safe food handling.
We use organic products as much as possible and try to minimize the children's intake of salt, sugar, saturated fats and artificial additives. At snack time, we tend to serve in-season fruits, a chunk of carrot or cucumber, a wholemeal biscuit or unsweetened popcorn. Our standard refreshments are water, natural fruit juice, milk or yoghurt drink—served in the recommended quantities for each age group.
There's also room at Oya's table for the occasional birthday cake, chocolates and candy, or other less healthy choices that are part of the world outside our doors. We strive to promote sensible eating habits not by banning certain foods or drinks but by making healthy eating attractive. Through creative presentation, we try to tempt children to sample new foods and develop a taste for a wide variety of flavors. We don't talk about food as 'good' or 'bad' and we never use food to reward or correct behavior.
We also believe it's important to make mealtime a pleasant experience. Meals are served family-style around the table, with adults and children eating together at regular times. Group leaders let the children know when mealtime is coming up so they can round off their game or activity, wash their hands and come to the table feeling relaxed. For some age groups, helping to set the table, wash fruit or chop vegetables will be part of playtime.
We cater to children with allergies and other conditions that call for a special diet. Babies are fed according to the schedule established at home.